Only a year after making her solo debut at NZ Fashion Week and history as being the first transgender fashion designer to showcase at the prestigious event, we sat down with Cecilia to find out what the last year has brought to her and what her future plans are for her couture label.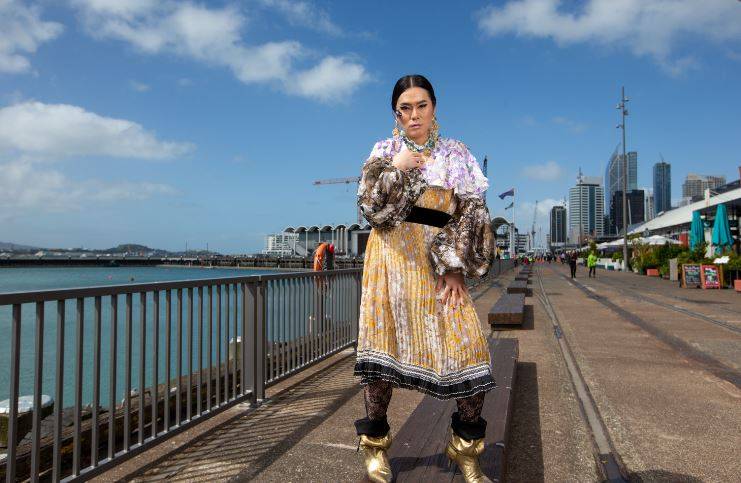 Let's start with the obvious, no fashion week this year due to Covid-19. Were you showing at this event and if so, what were your plans of grandeur you are so well known for? Since there is no Fashion Week, I was thinking about displaying my new pieces through online social media, even going digital and creating video slides. But then Multi Media Magazines Editor Vanessa Bennett asked me to showcase my collection with Eye Magazine I immediately thought it was a big opportunity for me and I am so grateful.
How has Covid-19 impacted your business and how are you thinking outside the square? Covid-19 has impacted NZ businesses significantly including my couture line, as being bespoke I couldn't take appointments. So, I have been focusing on my ready-to-wear line and hopefully that will come about as soon as possible. I have also been making one-off jewellery pieces and ladies are showing great interest which is wonderful. Hopefully once this pandemic is over, I can get back to what I do best and sell my gorgeous garments and pieces to deserving women.
With the party season upon us, what exquisite pieces have you been working on to grace the who's who in society? I have been constantly working on creating so many different pieces this year. I guess a lot of people know I am all about being different, unique, and like to stand out, among others. Of course, as usual I have been experimenting with a lot of shapes, with different materials. The constant pressure and strain as a fashion designer to come up with a new design can be demanding. But I am still all about details, embellishment, and lots of colours.
Being the first transgender Fashion Designer in NZ, do you feel a sense of responsibility to mentor future LGBTQ + designers? After giving my diversity speech at NZME to all the reporters, my mindset completely changed. Before, I realised fashion was all about chasing fame, money, popularity, and followers, but sharing my personal story, I realised how important it is to inspire our future LGBTQ+ designers in Aotearoa. I do sincerely feel the responsibility to mentor our future LGBTQ+ designers in this unprecedented time because the journey is definitely not easy as a transgender designer and I have faced so many obstacles in life to be who I am today. I believe we need to encourage and motivate our youth; give them the support they need and lead them in the right direction.
We know finding your true sexual identity was a tough and painful journey while growing up in the 90s. do you think like a singer and their lyrics, your story is woven into your pieces? I am constantly trying to find out who I am, and I am still learning every day to be a better person. I do think just like a singer and their lyrics I always weave some kind of story into my pieces, I call it "Haute Couture' telling stories using fabrics to create true one-off pieces like a song or a piece of art.
Does your Korean heritage play a part in your designs? My gowns can be very architectural, and that design influence comes from Korean architectural buildings. On the other hand, some of my floral-patterned garments are influenced from NZ nature which can be very colourful and eye pleasing. I am constantly researching how I can create garments that can connect two cultures together: South Korea and NZ. South Korean traditional costume "Hanbok" with New Zealand national costume "korowai/kahu". Hopefully one day it will happen.
So, what are the next projects and direction for the Kang Kingdom? I guess my next project and direction is to get my ready-to-wear line sorted. It is going to take a while, but I am doing one step at a time to prepare. Focus on my jewellery line and get them into boutiques around NZ. That will be a dream come true! I hope I can take part in NZFW 202 and showcase some new Cecilia Kang Couture pieces.
Kia Kaha
cecilia-kang.com