'It's an absolute rule: no matter how hard things get, we must find a way to have fun. Go somewhere new, enjoy sun, sea, music, good food, new cultures and come back recharged'

This is the mantra of Ina Feimi, who is co-owner with her fiancé Stuart, of Proper Pizza in O'Connell Street and Fokker Bros in the Viaduct. Ina says 'They both are 'the face' of what fast food done-right is for me, but we all need time-out"

Emigrating from Albania to New Zealand together in 2016, they left family, friends and security to explore a brighter life together. Before arriving and settling down in Auckland though, they made travel a priority. The need to be wise with money, birthed their philosophy of smart and affordable travel, coupled with a strong belief of time-out and time-together makes life timeless.

They spent two years traveling all over the world, place after place, plane after plane, ship after ship; a contagious virus planted deep within them both. In the past, Ina would travel two-three times per year with family, friends or even alone sometimes but had never travelled with a partner. Every week was somewhere new for them, sometimes two-three countries in a week. She says it got crazy but a good crazy, the best crazy ever. She fell in love with places, fell more in love with Stuart and feel in love with her new self!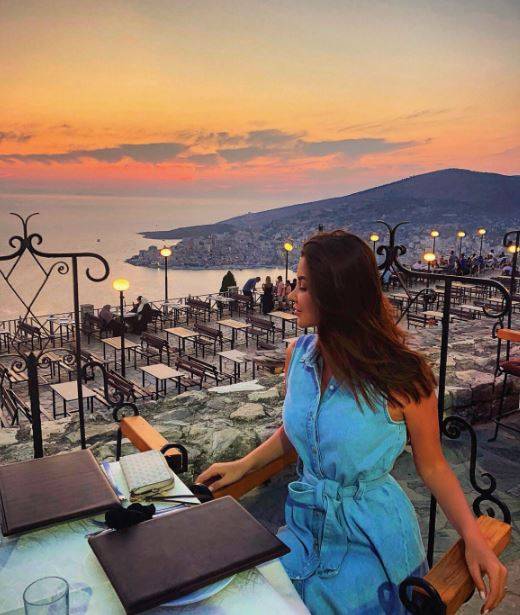 This was Ina's first time also living with another person other than a family member. Sometimes she found herself thinking how amazingly it is, that two different beings with no ties of blood could co-exist in a relationship without losing their own identities. Ina goes on to share, 'Don't get me wrong, I know that most people would say that's love but come on, love is not always the answer when it comes to a long-term relationship.
There are so many other elements needed in it, especially if both of them work in the same environment. Love might be the cherry on the top but the foundation I figured in my case is to respect the other, knowing that they do their best and can have a hell lot of fun. From the start of our relationship, we agreed that we will work hard but also appreciate the company of each other and enjoy life'

It's this promise and zest for fun and passion for travel that has taken the pair to 67 countries and 94 cities and they tell me they have only just begun.But how do they do it you say with two busy businesses to run and all their money invested. Well Ina prides herself on doing research and finding out all the best deals and looking in places you might not have ever thought of!

Best place to go for Spring: Barcelona. The mix of Mediterranean culture with the Latin blood is irresistible. Drinking sangria, enjoying modernist landmarks, shopping on La Rambla for new items or enjoying food from Mercado de La Boqueria, it's energising.

Best place to go for Summer: I can't decide between the south of Albania, the Greek Islands or Croatia. For the ones who haven't tried it, those three places give you the vibe that Ibiza/Saint Tropez has but more relaxed and affordable. Amazing summer parties, astonishing blue crystal waters, music in the air, good fun, lots of adventures and bikinis everywhere. They are made for Summer.

Best place to go in for Autumn: Paris. Nothing compares with Paris on an autumn day. It's just pure magic.

Best place to go for Winter: – Queenstown NZ and Innsbruck Austria. Both these places transform during winter like a fairy-tale land. The harmony between nature and handmade landscapes is almost majestic. You have to pinch yourself to understand the surrounding is real.

Favourite place to relax: Thailand, Koh Samui. The nicest people, not so crowded like the other islands, and beautiful white beaches with a city to entertain yourself during the night.

Favourite place to go: Italy.

An absolutely must go: Italy. No words – it has it all!

Most beautiful place on Earth: For a long time, I was vouching for Bora Bora or the Maldives till I saw Isle de pines in New Caledonia, and it's so close to New Zealand. Mind-blowing beauty with waters of so many shades of blue like Bora Bora but more character. I can't deny that Bellagio in Como and St Paul de Vance in Cote D'Azur haven't left a strong mark in my memories too.

Most beautiful country: Malta. Every country has beautiful places and cities but I have never seen a whole country with so many different faces, all of them beautiful in their own right. Rich in history, culture and architecture, it's a joy for the heart and mind to visit all three islands of this little country: Malta, Gozo and Comino. The average spend there, is 50Euros per day. I could have the breakfast in Valletta which is a UNESCO World heritage city with a massive number of historical buildings and it feels like Italy or France. Afternoon walking on the narrow cobblestones street of the silent old City and my mind would be transported to 1001 Arabian nights or enjoy a modern evening vibe in St. Julian – a very cosmopolitan city. It's the new IN place to go for the rich people from what I have heard, funny that it's so cheap - almost everybody can afford the beauty of it.

Places I would never return: Alexandria, Egypt and Phnom Penh, Cambodia. I enjoyed Cairo in Egypt and Siem Reap in Cambodia, but I really can't bring myself to go back to any of these places it's like once it's done its done.

Underrated places: Budapest, Istanbul, Langkawi, Saranda, Malta, Taormina, Rhodes, I would love to go back in these cities.

Overrated places: Bora Bora, Cancun, Marseille, Zurich, St Tropez – there are so many other options out there that I find way better. It's good to have a look at them but for me the hype didn't match the reality.

Places that deserve their good name: Paris, Montecarlo, Nice, Vegas, Ubud, Rome, Venice, Val Paraiso, Hong Kong, Positano & Cinque Terre, Amalfi coast, Queenstown, Amsterdam, Seoul, New York, Bangkok, Vienna, Dubai and many many others. These are the places that you get what you expect.

Unique experiences: Iceland and Cappadocia. They both are so majestic and mystic that you must give in to the place.

So, after all of this travel and with so many more countries to check off their list, we ask Ina and Stuart the inevitable question, which is your favourite City? And they answer as you would expect and with such joy...

'We love Auckland. We have seen so many other Cities and they are all beautiful but Auckland is still our first choice when it comes to where we want to live and grow our life and business. It's so beautiful, advanced in many ways, untouched in so many others. It's the best of both worlds and the place we love to call home'.