Pizza & Pasta, as they should be.
With five locations (Takapuna, Browns Bay, Ponsonby Central, Eastridge Eatery and Queen's Rise), Dante's is known for having a strong following from people who want the real thing. Upon entering Dante's, you feel as if you're entering little Italy, wafting smells of wood fired pizza and tomatoes immediately take you to a European marketplace.



But what sets Dante's apart from the rest? Well it all hails back to the very first pizza born out of Napoli in Italy. This pizza was light, had a fluffy crust with crispy charred spots, and ideally, was made with a good sourdough. Dante's took this and sought to replicate this, to bring a little slice of Italy to New Zealand, and that's exactly what they did.
Dante's was the first in New Zealand, and the second in Australasia, to be recognised and awarded for making and serving exactly that – the REAL pizza Napoletana. They wont he Vera Pizza Versace Pizza Napoletana, or AVPN, promotes and protects Italy, and worldwide, the true Neapolitan pizza and recognised Dante's for their authenticity.

The pizzas at Dante's are made with Caputo flour from Napoli, tomatoes from San Marzano, mozzarella cheese from Campania and baked in wood fired ovens which are handmade in Napoli by Gianni Acunto (the master of the craft). They are cooked in the oven for just 90 seconds or less, but the dough process itself actually takes four days to make! This means that each pizza is hand-stretched before topping the finest Italian and the freshest New Zealand ingredients on top.

But it's not just pizza that Dante's are known for. A few years ago, they branched out and introduced freshly made pasta (made in-house each morning). The same amount of time and care that they put into making their pizzas, goes into their pasta. The flour, the tomatoes, and many of the recipes at Dante's come from a similar region in Naples, Southern Italy. They make their egg pastry daily and use a unique Italian pasta flour which mixes the dough in a certain way that ensures the gluten isn't overly developed. The result? The perfect Italian bite.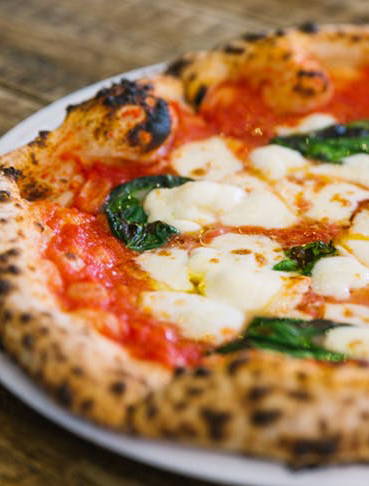 When visiting any Dante's Pizzeria, you immediately feel a family vibe, and this is what the owners sought after. They loved the idea of families and friends gathering around the dining room table and sharing good food. Dante's is authentic and nutritious, made with passion and love. With every bite, Dante's takes you to Italy.

dantes.co.nz