There are a few things in life that I believe you must seek the best of: the best coffee, the best wine and the best cheese. Life is too short to have any less quality in these three things. I believe you must find the best you can afford and indulge in only the best quality, always. This trip ventured into not only the best of Barossa wine but also the best of Barossa itself - food, shopping and, of course, wine. A unique, unforgettable and absolutely authentic destination, Barossa Valley is world-class and right in our backyard.


We stayed at The Hilton in Adelaide, a great landing pad for those looking to go to Barossa with, of course, fantastic wines and great food. While in Adelaide, we dined at Orana, winners of Australian Restaurant of the Year 2018 and 2019. A true experience, where we cooked damper bread ourselves and ate through a degustation menu designed around foraging. A truly Australian experience, inspired by the land and sea around us.

Thanks to an easy direct flight by Air New Zealand, we arrived into the Barossa, less than an hour from the center of Adelaide, and I could see acres and acres of wine vines, wine gardens (which are short stubby wine vines) and gnarly old vines for as far as the eye could see.

Everyone in Barossa is focused on doing something great and of excellent quality. Everyone we met was producing wonderful wine, cooking delicious cuisine and sharing their passion for food and wine with the constant stream of wine lovers, tourists and industry guests arriving into the area.

The most amazing Shiraz's come from the Barossa and the history is fascinating of how these old vines survived the years. The Australian government paid winemakers to pull out all the Shiraz vines as there were too many and it was not a popular style of wine at the time. Thank goodness for stubborn wine makers that kept these vines!


The passionate stories of each wine ambassador gave me goosebumps, as the history is raw and real. The early immigrants worked hard to create a life for themselves and passed on their talents to each generation. The old buildings have been preserved in their ancient state, even with old doctors records, wine vats turned into wine cellars,, and of course old wine!

We started off by touring Penfolds Winery and were fascinated by the history. The founder came from London seeking land to start a new life. His medical background led to fortified wine being prescribed as medicine which eventually led to a wine business. One of the great well-established, gnarly old wineries, it's a must for any wine-lover to visit.

We then drove an hour to The Louise, experts in boutique luxury. The 15 rooms were spacious and relaxed, the perfect mix of contemporary and natural with the vineyards surrounding us. An amazing place to stay and I highly recommend choosing The Louise as part of your Barossa Valley journey. Large marbled bathrooms with Apello products and soft fluffy towels make you just want to jump in the big spa bath on arrival. In this peaceful, romantic and wild setting, breakfast was delivered to us every morning and we felt truly indulged. While there, we dined at Appellation at The Louise, a world-class dining experience and a great way to experience contemporary Australian dining.

Getting around, for us, was one of the highlights of the trip. We used Daimler Cars which are luxe, well-kept cars that represent Barossa so well. Our driver, John, had a wealth of knowledge about the area and was able to give us an insight into Barossa's history. I'm yet to meet a rental car business that can do that! It also meant we could drink as we drove and relax rather than worry about who would need to drive. John took us down these stunning wide roads with palm trees. I felt transported to another land.

John took us to JamFactory, a collective of artisans creating and selling the most incredible products. The craftsmanship was on another level and we were amazed at what we found. Gardner Knives stood out as a highlight. His customers include royalty such as Prince Charles and he was able to use greenstone brought from New Zealand to create beautiful, one of a kind knives for us.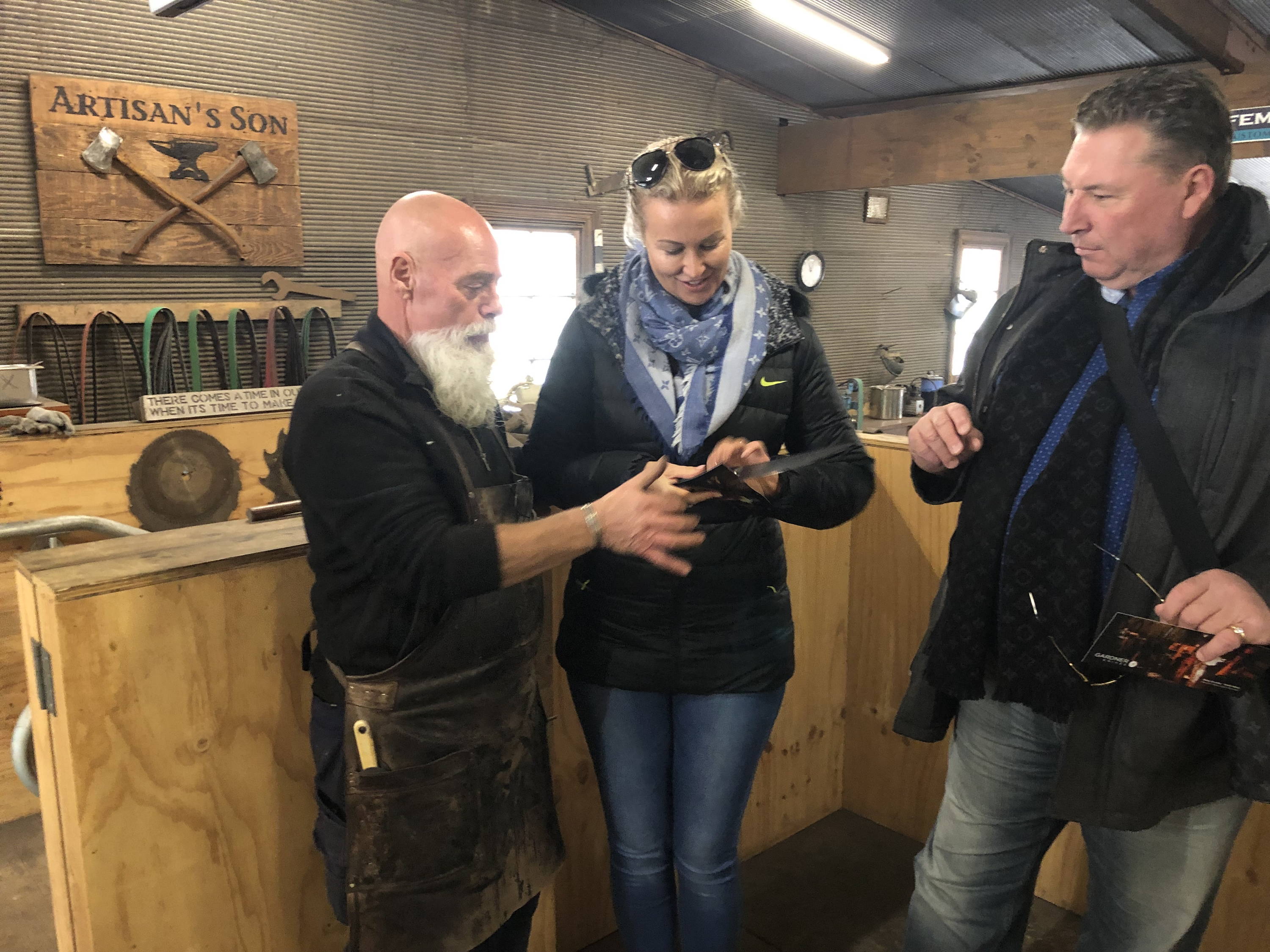 Next was Julie Fleming an English Milliner who makes the most beautiful headpieces. London-trained, she receives orders from all over Australia during the racing season and it's no surprise, her hats are gorgeous and of course I bought one for Melbourne Cup Week. Inside JamFactory there is also glass-blowing, which makes for great Barossa souvenirs that aren't wine.

We then visited Seppeltsfield Winery, another one of Barossa's well-established wineries. It is said you should sell the sizzle more than the sausage and they sure do this here, with the 'sizzle' being your wine labeled and poured especially for you. Who can resist buying their very own birth year and port and have it bottled, labelled and boxed in a gorgeous wooden box. Seppeltsfield have the only unbroken collection of wine casks in the world. They sit above ground and manage to survive the cold and the heat. We bought Lewis' year of birth and Seppeltsfield bottled and labelled it, right there for us. A truly unique piece of Barossa to take home.

We stopped by Vasse Virgin and I bought beautiful perfume, another great part of Barossa that isn't wine. We were amazed by the craftsmanship in the area and the unique gifts on display.

Next, we went to Two Hands Winery, which really should be called Four Hands as it was founded by two friends. It was a chilly morning and Two Hands was our first vineyard of the day. We were driven to the viewing hill and looked down over beautiful old vines, and a few Scottish fluffy cows. They cracked open a bottle of Shiraz and we sipped and laughed our way through a third of the bottle, firstly to warm up, and secondly because it was beyond delicious, rich and red and full of life.


Another new day, we visited Kellermeister Wines, owned and operated by the Pearce family with international award-winning wines. Once again, you cannot buy these outside of Barossa as there is not enough produced to export. What they do make is exquisite, beautiful wine. Despite being exhausted from a week of wine-tasting at this point, we were delighted and surprised at how delicious their wine was. Everyone we spoke with was so passionate about their craft and about wine itself. It was truly amazing to learn from them and be served wine by fellow wine-lovers.

You feel like you've been transported to the 1980's New Zealand with the local bakery, butcher and old cars on the roads. Almost frozen in time, Barossa has managed to capture the best of these times and preserve them for us all to enjoy at our leisure. Everywhere you go are these gnarly vines, leftovers from where the Shiraz vines were pulled out.

Next on the agenda for us was Hentley Wines, as we thought it best to stop for some food amidst all the wine tasting. We were absolutely blown away by the food at Hentley. I started with a 2018 Blanc de Noir and sipped on Riesling, Shiraz and everything in between. The food was clearly inspired by the abundance of the land around us, as we dined on kangaroo, macadamia and other authentically Australian ingredients.

Speaking of delicious food, we also stopped by the famous Maggie Beer's Farm Shop and dined at The Farm Eatery. A great place to stop in and see, as there is a range of artisan products to browse and taste. An Australian icon, it's not a stop to miss if you are in the area.

We really did save the best for last when it comes to Barossa Valley wine. I have had a relationship with Yalumba since the very early days of Eye Magazine and it was a privilege to finally visit them in Barossa, after 20 years.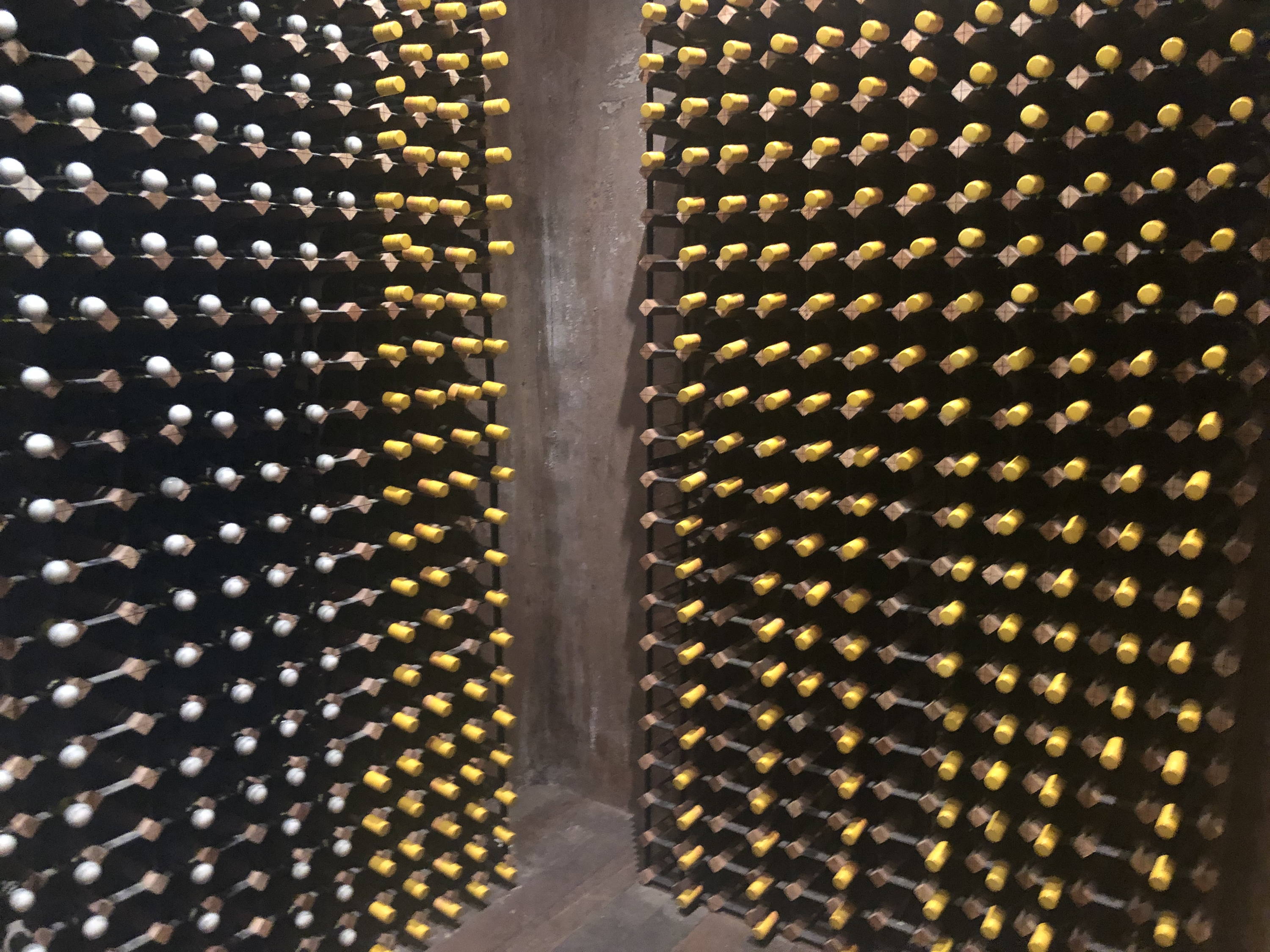 Each year at Yalamba, owner Robert Hill Smith selects someone to be the name of the new signature Yalumba and many outstanding wine connoisseurs have been made signatures. We were taken into the old wine caves underneath the Yalumba building. What an outstanding collection of wines. As we sipped through each cave, we viewed wine dating back to 1800 and we were even lucky enough to see Roberts personal collection. Yalumba also make their own barrels for the premium wines, showing their dedication to quality at every step of the process.

Yalumba is an Ancient Aboriginal word meaning 'all the land around' and it was such a surreal experience to visit their winery where it is made. We felt as though we were part of the family after having dealt with Clive Weston in Auckland for years and becoming true friends over many a wine together. After 170 years Yalumba has become the icon we all know it to be, and the envy of many vineyards across the world. Founded in 1849 by Samuel Smith, five generations have since worked on the same vines. We sipped our way through many familiar and not-so-familiar wines, feeling very much at home at Yalumba. There's no other way we could have ended this trip as nothing could quite top it.


It's often suggested it's best to visit Barossa in spring but we chose the end of June. Cold and romantic, the raw sunny days and frosty mornings further emphasised the wildness of the nature surrounding us. Visiting off-peak, we revelled in the lack of tourists and the chilly days made for a perfect red wine-drinking climate. Don't be afraid to visit at this time, with Air New Zealand flying directly to Adelaide from Auckland, it's an easy journey and a great way to explore South Australia.

Although we're avid wine-drinkers, we still left Barossa with a wealth of knowledge. And not just from the experts we met or from our Daimler driver John but our palettes have changed forever. Matured, some would say, or expanded after having tasted such incredible flavours in the environment where they were produced, with the creator right there pouring the glass for us. Barossa Valley is filled with hard-working, passionate people who love their food and wine. We fit right in.